NASCAR Thunder 2003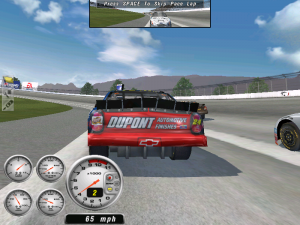 NASCAR Thunder was a marked improvement over the painfully bad NASCAR Revolution. The physics model, among other things, has been completely revamped here, from the handling of the vehicles to the way the car will take to the skies when conditions are right during a high speed collision. Like most respectable sims, NASCAR Thunder 2003 has all of the driving aids to cater to novices. players can tweak the AI and the aggressiveness of the drivers, and, with a little experimentation, everyone can set the game up to match their abilities and deliver a lot of great racing action.
The AI isn't perfect, however. While the CPU drivers perform fairly well in the middle of a race, they don't really know when abnormal events take place. Too often they smash into a car rather than brake and drive around in order to avoid an accident. In the same respect the drivers don't show any common sense, such as taking advantage of yellow flags by pitting.
Another hit against NASCAR Thunder 2003 is that it doesn't contain any of the extras we've come to expect from regular NASCAR games of this period. It has the basics down, with great tweaking features, a huge selection of tracks, drivers and cars, and the option to race a complete season, but that's pretty much it. There's no career mode that was so common in other offerings from the same developer. At least the multiplayer can offer some extended playing sessions.
---
System Requirements: Pentium III 700 MHz, 128 MB RAM, WinXP
---
Tags: NASCAR Thunder 2003 Free Download PC Game Review