Mummy: Tomb of the Pharaoh
Sunday, December 17, 2017
| | |
| --- | --- |
| Platforms: | PC, Mac |
| Publisher: | Interplay Entertainment |
| Developer: | Amazing Media |
| Genres: | Adventure / Point and Click |
| Release Date: | 1996 |
| Game Modes: | Singleplayer |
Interplay's adventure game Mummy: Tomb of the Pharaoh cashes in on Ancient Egypt – a source for countless movies, books and even computer games over the years – yet it manages to remove any intrigue by steering you through the plot like a student driver in heavy traffic.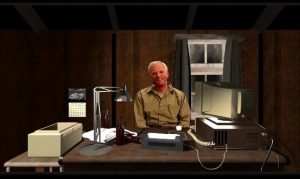 As Michael Camron, a facilitator for the National Mining Company, you have been sent to resolve a "situation" that has developed at an Egyptian mining site. Mine workers have been scared off by the discovery of a mysterious box at an excavation, possibly an ancient Egyptian artifact. Your job is to return the local workers to the mine, sort out the mystery surrounding the box, and resolve matters with the Egyptian authorities. Of course, that's easier said than done.
You spend your first evening in Egypt familiarizing yourself with the layout of the mining camp and meeting the main characters. Each person has an opinion and information to share, and you must talk to them all. Mummy: Tomb of the Pharaoh ensures that you have all the facts before you go it alone by shepherding you on until every task has been completed. If you should happen to miss something, it's not long before a character comes into view and gives you a glaringly obvious hint as to what to do next.
With a deeper understanding of the situation and some new suspicions, you do what any good hero would: You go to bed. When you wake up next morning, the camp geologist has been murdered, and the game really begins. Mummy finally leaves you to your own devices, exploring the camp and mines, discovering underground rooms, and reading other people's private correspondence.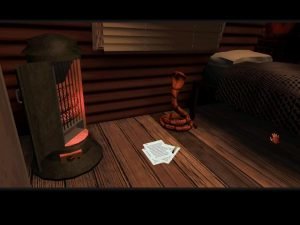 Mummy: Tomb of the Pharaoh suffers from an acute case of familiarity. For the most part, the puzzles are solved through simple logic or trial and error. They become secondary to the story, which isn't all that captivating. Most disappointing of all, the game includes a six-level mine, four levels of which have no value whatsoever. Still, you'll have to explore them just to be assured of their uselessness. Should you slog your way through all this, you'll experience a brisk, inadequate ending sequence with two possible outcomes (both of which are essentially the same).
That being said, Mummy isn't completely without merit. Veteran bad-guy Malcolm McDowell (Wing Commander III and IV) is excellent as the shifty mine operator; the scenery is well rendered; and the day/night transition adds an interesting twist of realism. Despite their occasional irrelevance to the plot, the full-motion video sequences are well integrated and occasionally entertaining, and the sound effects and music are excellent as well.
But even with the polish and detail that has gone into the game, Mummy doesn't muster enough interaction to keep you interested. The puzzles are unoriginal and artificially difficult, and the plot fails to connect to the sinister aspects of the story. While the game's simple nature may attract newcomers to the genre, adventure fans who've been playing this lot for years won't be terribly impressed.
---
System Requirements: 486/33, 8 MB RAM, 22 MB HDD, Win95
---
Tags: Free Download Mummy Tomb of the Pharaoh Download Full PC Game Review