Microsoft Flight Simulator 2000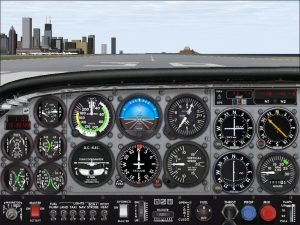 Improved but still lacking proper ATC.
Microsoft's Flight Simulator has been around far longer than most mainstream game series. Being continually updated since its Apple II days, Flight Simulator 2000 manages to give the sim a wealth of new capabilities, more realistic aircraft, and a dramatically improved world to fly in. And for the first time, two versions are available—a standard edition, and the Professional version sporting more aircraft, more cities, and editing tools.
The terrain engine and world database has been overhauled. Terrain elevations are rendered with more accurate detail, considering the database covers the entire world. Sedona AZ, which was populated by giant pyramids in FS98, now has authentic mountain elevations. The Grand Canyon can also be found. Ground textures are now rendered in 16-bit color, and are second only to the satellite imagery of the Flight Unlimited games.
FS2000's database now sports a whopping 20,000 airports, nearly every documented public airport in the world. High-detail cities in the standard edition include London, Paris, New York, Los Angeles, San Francisco, and Chicago; the Professional Edition adds Boston, Washington, DC, Seattle, Berlin, Tokyo, and Rome to the list. There are more buildings, and they're better textured, than before. Even cities without high-detail imagery aren't barren. For instance, flying down the Vegas strip, you'll find the Luxor, MGM Grand, and other landmarks.
Flight models feel dramatically more realistic here. The Cessna is no longer overly pitch sensitive, and the general feel during maneuvering is better. The helicopter is a bit more stable as well, although still hard to fly with FS2000's view system. High-speed regimes handle better, as the sim is now tuned to handle the Mach 2 Concorde airliner, which along with the Boeing 777 is new to this version. The Professional edition also adds the Mooney Bravo and the King Air 250. You can also import aircraft from FS98 and FS95. Weather has also been improved, with better looking clouds and accurate precipitations.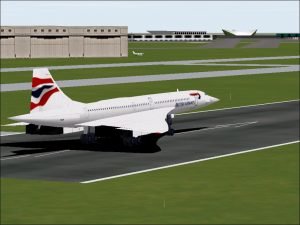 Overall, the sim is a dramatic improvement over earlier versions. Its biggest fault, though, is a complete lack of air traffic control — even the text-based version from earlier versions is omitted. This is especially curious given the IFR enhancements of the Pro version. Also, rather than "intelligent" air traffic as in FU3, we're once again treated to "dynamic scenery," sparse populations of aircraft that look like they're moving on rails. You might want to pick up Flight Unlimited III if you're looking for proper ATC features. But in every other regard FS2000 is a clear improvement.
---
System Requirements: Pentium 166 MHz, 32 MB RAM, 350 MB HDD, Win95
IMPORTANT:
This is a download button.
Please
READ THIS
before downloading!
---
Tags: Free Download Microsoft Flight Simulator 2000 Full PC Game Review