Mad Trax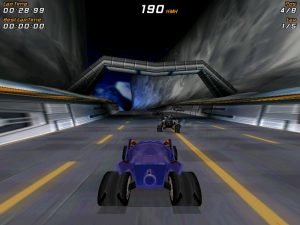 Well designed and fun to play with a wealth of ridiculous banks, leaps, and curves, Mad Trax certainly has a fair share of good action. You race in one of eight customizable cars, and where you'll finish is always a mystery-there are power ups lying around waiting to be used and abused, including shields, missiles, and mines. Each track is a graphical tour de force, with the most sumptuous visuals since Need for Speed III. Other than an abundance of post-apocalyptic red, the textures are tantalizing, the sky superb, and the lighting is lovely.
Of course, you probably want to know how it plays. Using a joystick, gamepad, or keyboard, you'll be skidding and overcompensating through every turn, making for loose control. Fortunately game physics are more forgiving than Hillary Clinton, so you'll be finishing first in no time… but you won't be doing it very fast—even 200 km/h feels like 80. Perhaps the wide tracks and momentous backgrounds have something to do with it, but whatever the reason, it feels like you're driving a go-kart.
In an apparent effort to make the game less fun, a map of the track showing everyone's position is missing, and the manual doesn't explain the powerups. If you are looking for other options, you can race against computer or human opponents in a single race, or play the ubiquitous league mode.
---
System Requirements: Pentium 133 MHz, 16 MB RAM, Win95
---
Tags: Free Mad Trax Free Download PC Game Review