Little Big Adventure 2: Twinsen's Odyssey
And now for something completely weird.

As unlikely a hero as you'll ever meet, Twinsen has just recovered from saving his planet from the evil Dr. Funfrock in the sleeper hit Relentless: Little Big Adventure. Adeline Software has recreated the little guy in an entirely new story, initially titled and still often referred to as Little Big Adventure 2. Twinsen is much beloved by those on his planet and by so many who have played the original.
At a glance, Twinsen's Odyssey appears to be very much like its predecessor, and actually, it is. They kept what was good, enhanced it, added a lot of window dressing, and the result is one of the most entertaining and by far weirdest game of 1997. Players will find themselves in a highly action-packed adventure, encountering quirky characters and challenging puzzles as they guide Twinsen through some 30 hours of gameplay – less for sharpshooters with a walkthrough, more for the arcadely-challenged. In fact, those allergic to action might want to pass on this, as it's mostly running and jumping.
As in Relentless, the visual style of the game is truly a delight. The character animation is very similar, with the same four modes of behavior for the protagonist: Regular, a strolling gait allowing him to use objects and talk to other characters; Aggressive, which permits punching, kicking and whirligig swordplay; Discreet, so that he may successfully rob the local 7-11; and Sporty (renamed from Athletic), which produces a very amusing walking style, and allows him to run, jump and roll. Behaviors change is now available at the touch of a function key, a wonderful improvement.
Real-time animated 3-D polygonal characters are combined with wonderfully rich pre-rendered backgrounds with a handy multi-angle view feature. Although the camera does not follow you, you are able to change it at will for a better perspective. This is both a helpful and not-so-helpful feature, especially when you're mired in combat and the camera shifts to an unwieldy angle. Generally, though, you are the master of the view, and it is very helpful to see all possibilities when navigating through some of the more treacherous situations, such as when constantly re-generated steel elephants with clubs are attacking from all sides while additional pachyderms' lasers are hitting you directly in the head (they rarely miss) and missiles are merrily exploding as well; or simply when you need to execute a series of quick leaps onto rapidly passing pads of pumice across seas of molten lava.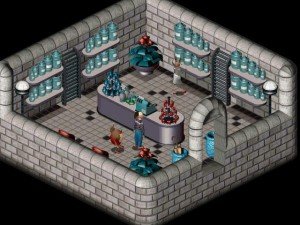 In addition to Twinsen's ubiquitous magic ball, other weapons are available: lasers, blowguns and the impeccably tasteful Nitro Meca Penguin – wind him up and he waddles toward the enemy and explodes five seconds later in a grand burst of tuxedo. Power-ups (in the form of health, magic, or extra lives) and cash are also found by using the action key near various plants, barrels, dispensers, etc., or by picking up an occasional mushroom or apple, or by taking part in casino gambling, and they regenerate whenever you leave and return to the area.
While regenerating bonuses might be a plus, regenerating monsters may make you want to keep your analgesic of choice close at hand. Leaving an area by mistake or by the wrong door after spending a perceived million years killing a roomful of angry kielbasi, rewards you with the entire stock of critters all over again (pop a couple of aspirin). Carefully acquired keys do not accumulate. Instead they disappear the moment you leave the area for which they are intended, necessitating that you battle anew for them each time; even doors that have been opened become re-locked. Unlimited save opportunities ease the burden, provided you remember to use them.
Aside from the tiny quibbles, this is an engaging title and an absolute must for action-adventure lovers. Although it is a very long game, it is recommended that you stick with it until the climax, which actually does some justice to the story.
---
System Requirements: 486 DX4/100 CPU, 8 MB RAM, MS-DOS

---
Tags: Twinsen's Odyssey Download Full PC Game Review