Links 2001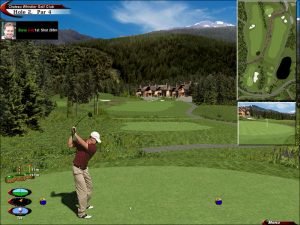 Links 2001 soups up the series with a new engine that allows for surface features such as cliffs, true lips on bunkers, and more aggressive vertical terrain features such as arches. Anti-aliasing has also been included, providing a seamless integration of the on-course elements that past titles in the series have been lacking. The result of this entirely new visual approach is a significant improvement in the look, feel, and play of the series. The real-time captured golfer animations familiar to the Links series look more natural to their surroundings.
Ball physics have been fine tuned to perfection to reflect realistic ball flight and object collision. Try driving one off the walls of the mesas at Mesa Roja if you need convincing? just don't forget to duck. In addition, the bunker lips and overhangs will come into play when your drive finds that fairway bunker. Approach shots will even back up realistically.
The greens have been reproduced with accuracy to within one centimeter using a Global Positioning Satellite system. The standard grid has been improved by adding a color scale to aid in reading the severity of the break. You also have a slope indicator bar that tells you how far the ball is above or below the hole, and an arrow attached to the bottom of the aiming "stick" that indicates the direction of the break as you move it. All of these add up to easier reads on your putt.
Links 2001 comes with three swing options—Easy, Classic, and the Powerstroke. The Easy mode is designed to require a minimal amount of timing accuracy when you swing—all you need to do is click once to start the swing and then click again when the power meter has reached one of three power marks at the top. The Classic mode offers the two or three click swing familiar to PC golf fanatics. One improvement that Microsoft has made to the Easy and Classic swing modes is the ability to relocate the swing meter to just about anywhere on the screen.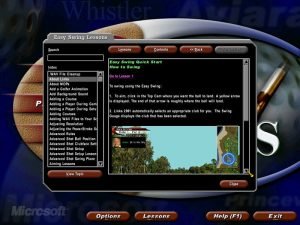 The Powerstroke is Links 2001's "real-time" mouse swing option. To begin the swing you click on an onscreen picture of your club. This brings up a power bar that shows your club at address to the ball. Click once and you are ready to begin your backswing, which is accomplished by dragging the mouse to the right (reversed for lefties). You then downswing by moving the mouse to the left and then clicking at the desired point of impact in order to complete the swing. The quicker you move the mouse to the left the higher the club head speed.
With the significantly improved graphics engine, the wealth of options and an extremely powerful course editor, Links 2001 has enough bells and whistles to make it one of the go-to games of this golf series.
---
System Requirements: Pentium II 233 MHz, 64MB RAM, Win95
---
Tags: Free Download Links 2001 PC Game Review