Juiced
Just as there's nothing quite as exhilarating as dropping turbo and blasting past the competition on the final straightaway, there's nothing that makes you want to ram your tricked-out Toyota into a wall faster than losing a race—and the cash you bet, your ride, and respect points—because your computer-controlled opponents can't recover from a spin-out.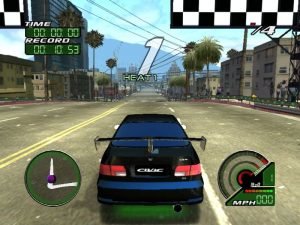 Such is the joy and frustration of Juiced, another urban racer that had barely gotten released. After a troubled development phase, THQ polished the package, and let the game out of the garage. On the surface, there's nothing inherently wrong with Juiced. There's certainly plenty to tool around with. There are 52 car models to choose from and/or unlock, and the number of ways you can mod, upgrade and spray your Honda, Mitsubishi, or Chevy is more than extensive enough to satisfy most race-heads.
The requisite single-player arcade mode is also fairly robust, but career mode is where the heart of the action lies. You can either check the event calendar or bust out your Sony Ericsson cell phone to call out local rival teams in sprint, point-to-point, circuit, or freestyle events. You begin the mode with $40 thou in your coffers, cash you'll be using to enter and bet on events, upgrade and repair your growing fleet of cars, and recruit your own AI-controlled team members who can race for you if you'd rather watch than drive. Given all these resource drains—and how frightfully easy it is to lose high-stakes races when AI cars drive idiotically, foiling your best passing moves—the road from street-legend luxury to poor-boy heartache is often maddeningly short.
Other niggling things add up, like dings and key scratches on a driver's side door: the console-riffic lack of mouse support in the menu screens, the dizzying array of tracks and urban areas that somehow all seem to blur into one, the slippery physics model that turns asphalt into ice.
---
System Requirements: Pentium III 700 MHz, 256 MB RAM, 1.3 GB HDD, 64 MB Video, WinXP
---
Tags: Free Juiced Download Full PC Game Review