Jack Nicklaus 6: Golden Bear Challenge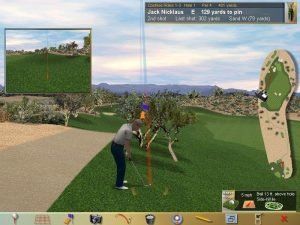 Every hole's a goal in Jack Nicklaus 6.
A few notable improvements are present in this sixth iteration of Jack Nicklaus. The interface is easier to use. When setting up a game, you will find everything you need to get started. The courses, golfers, games are easily accessible from this screen. There are six courses included, highlighted by Shoal Creek in Birmingham, Alabama and Muirfield Village in Dublin, Ohio. Visually the game is a hit and miss, with neither courses nor golfer animations that are liable to impress.
Jack Nicklaus 6 provides an RPG-ish skill point system to setup your player's "game". If you want be a big hitter, you may have to sacrifice your short game, sand play, or putting skills. Then as you improve your game, you will be allotted more skill points to distribute to your player; this makes a significant difference in overall play.
The most rewarding and challenging part of the game is the new season mode. You can choose which courses to use (even custom courses – you can design them ingame), whether to have a qualifying round, a cut day, or even whether a tournament is a "major" or not. You are playing against computer generated tour players who you can rename to reflect your favorite pros or friends and family. This freedom to customize so many facets of the game is something you don't usually see in golf games, and it's a big plus.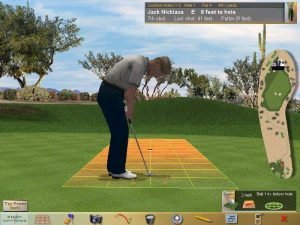 The swing interface includes 2 and 3-click, along with a mouse swing. Distance is determined not so much by how hard you swing on the meter, but at what distance you aim the shot and the type of shot that you choose. The arsenal of shot types to choose from include straight, fade, draw, 3 different shot trajectories, and when chipping you can choose between 'bump and run' and lob. You take the same exact swing each time you take a shot. This rewards the player that understands what different conditions and terrain have on the game of golf.
The biggest annoyance in this game is the long putting system. The problem is that there is no way to gauge how hard you need to hit the shot. Even on long, downhill putts you come up short. It is frustrating beyond belief, and it doesn't seem to be a game feature but an odd bug. Mayhaps patching it will fix this, or maybe not. The other issue in need of fixing is the collision detection of the ball, which seems to completely ignore some trees and shrubbery.
---
System Requirements: Pentium 166 Mhz, 32 MB RAM, Win95
---
Tags: Free Download Jack Nicklaus 6 Golden Bear Challenge PC Game Review