Hodj 'n' Podj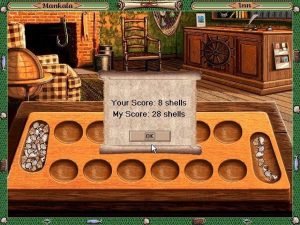 A neat package of gaming irreverence.
Hodj 'n' Podj is actually two games in one — a big "shell" of a board game (where you have to rescue two kidnapped princesses named Mish and Mosh), within which are nested 19 smaller, self-contained minigames. To obtain funds, items, and gold to complete the overall quest, the player must rack up at least passable scores at each of the small games he encounters. All of this takes place in a lovely, colorful fantasy world.
In-between the small gamelets, the basic board game plays in the classic Chutes and Ladders manner. The player elects to be either Hodj or Podj, "rolls" the electronic dice, then advances the number of squares shown on the screen — first player to discover where the princess is hidden, wins. There are incidental pitfalls and windfalls, of course, that make this process less than straightforward and add to the fun.
Many of the stand-alone games are variations on old favorites, sometimes very clever ones — I especially liked "Battlefish," a spirited take on Battleship. There are also word-games, puzzle games, pegboard games, mazes, cryptograms, and card games. Each game screen contains a number of "easter eggs" — hidden hot-spots on the screen that reveal clever audio and video bits when you click on them.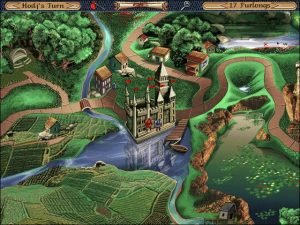 The skill levels can be adjusted, and on the "easy" setting, children should be able to handle the challenges just fine. Each game-segment features droll audio commentary (as does the basic quest-game itself), and the graphics are charming. Not all the gamelets work equally well. The Pac-Man variation (called "Pack Rat" here) is nearly unplayable with the keyboard, and a couple of the others are just too simple-minded to hold adult gamers' attention for very long. (Do you need another version of Solitaire? I thought not.)
Don't expect too much from this game. It breaks no new ground, pushes no "envelopes," and veteran gamers will no doubt be bored by parts of it. But if you accept Hodj 'n' Podj in the spirit in which it is offered, you'll find considerable delight in playing it.
---
System Requirements: Pentium 90 MHz, 16 RAM, Win3.1
---
Tags: Free Hodj and Podj Download PC Game Review