Gobliins 2: The Prince Buffoon
Gobliins 2: The Prince Buffoon is a game similar in style to the first game. It had multiple protagonists that you could take control of, and every scene in the game is a puzzle in itself. So I expected more of the same with the sequel, and I was not disappointed. The amusing introduction shows what happens to the Prince Buffoon and introduces us to Fingus and Winkle, the two goblins who will accompany you through the game.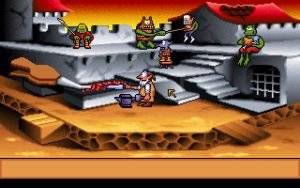 Gameplay remains the same as the first Gobliiins, with numerous tasks to complete on each screen, and the two goblins are expected to work together to accomplish them. Everything highlighted on each screen can be interacted with and can be an experiment to see what they do. Both goblins can talk to other characters within the same screen and communicate with the player through gestures such as wagging fingers at them if they can't interact with an object and giving the player the thumbs up if they do something right.
Fans of the original Gobliiins may be disappointed to discover that these gobliins are far less specialized than their predecessors, and that this program falls far closer to a traditional adventure game this time around. However, its challenging puzzles, sharpwitted entertainment, and enhanced case of use still qualify it as a very enjoyable romp.
---
System Requirements: 80486/33 MHz, 4 MB RAM, DOS
---
Tags: Goblins 2 Free Download PC Game Review