Europa Universalis 2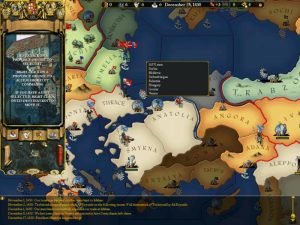 Europa Universalis 2 is a game of pre-industrial trade and warfare, much like the original. Scenarios range in scope from specific historical epochs lasting roughly a century (e.g., The Age of the American Revolution) all the way to a grand free-for-all super-campaign that begins in the early 15th century and lasts until the Age of Napoleon (1816). There's a 100-page manual and a nine-stage tutorial. It's that kind of game. But if you like such big, intricate, tough-to-master strategy-fests, then it's worth a look.
New civilizations include feudal Japan, Colonial Spain, the Muscovy/Novgorod period in Russia, pre- and post-Revolutionary France and America, and some small but pivotal city-states such as Genoa. The game hosts a whopping 1,600 land and sea provinces, with better graphics than the original, an improved interface, and customized games. It's also got the best damned soundtrack I've ever heard, ranging from medieval troubadour ballads to early Beethoven.
I encountered a few bugs: saved games wouldn't load until after the first patch came out, and I could never get either of the unit-stacking/combining commands to work. A simple "Find Province†icon would've been nice, so that when the Duchy of East Bumm-Fuqq declares a trade embargo against you, you could instantly find out where the hell it is. As a whole, however, this is a good grand strategy type game and a worthy sequel.
---
System Requirements: Pentium II 233 MHz, 32 MB RAM, Win95
---
Tags: Europa Universalis 2 Free Download Full PC Game Review