Curse: The Eye of Isis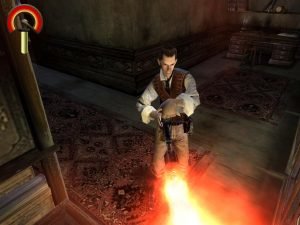 Resident Evil meets Ancient Egypt.
Curse: The Eye of Isis takes place in 1890, on the evening of a new exhibition at the Museum of Great Britain. The featured attraction is an Egyptian artifact called the Eye of Isis, but, wouldn't you know, it's one of those Egyptian artifacts with a curse. Quicker than you can say Resident Evil, people start dying and turning into zombies, and that leaves it to you, playing as the children of the archeologists who discovered the Eye, to fight the zombies and diffuse the curse.
Curse works much like other survival horror games. The action takes place using a third-person perspective. Sometimes the camera pans with you or follows along behind you, but mostly you move from "scene†to "scene,†with all the disorientation and bad camera angles that usually entails. However, to help you in your endeavors, you get to use weapons like shotguns and flamethrowers, and you can even just whack away at your enemies using a truncheon.
There are even some puzzles in the game, but they mostly involve finding keys and pushing objects around (to prevent doors from closing behind you, for example), and aren't very complicated. In fact, other than a handful of boss creatures sprinkled throughout the game, nothing about Curse is very complicated.
Curse might be entertaining enough to play except its interface sucks too much enjoyment out of the game. The keyboard layout is awkward, the overheard map isn't helpful enough, you don't get to see how much damage (if any) you're doing to enemies, and the save system is a mess. None of this makes the game as entertaining as its source material.
---
System Requirements: Pentium III 600 MHz, 128 MB RAM, 600 MB HDD, WinXP
---
Tags: Free Curse: The Eye of Isis PC Download Full PC Game Review