Command & Conquer: Tiberian Sun: Firestorm
Firestorm complements Tiberian Sun with new missions, new maps, new units, and typically more fun. A great many changes include not only new units, but re-balancing of the already existing ones.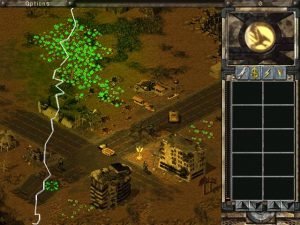 Artillery used by NOD, for instance, has been toned down, making it less effective, and the advantage is further diminished with the addition of the Juggernaut, a multi-turreted monster now available to GDI. A squad of Juggernauts is invaluable on both offense and defense for GDI players. In multiplayer games, NOD will be equally taken with the Cyborg Reaper, a quadruped that fires anti-infantry nets and multi-missiles. However, the greater wildcard in NOD strategy will probably be the mobile stealth generator (which works exactly as you'd expect).
Both sides have been given mobile war factories, as well as limpet mines, which attach themselves to enemy vehicles, in theory allowing you to see the enemy base once the vehicle returns there – similar to StarCraft's parasite. These units sound great, but their actual usefulness is questionable. A mobile EMP permits GDI more flexibility in blunting a NOD assault. Veteran units are also more useful to keep this time. They can achieve full veteran status relatively quickly, and the greater skill shown by veterans is noticeable. This feature also means it might be worthwhile to retreat and repair veteran units rather than building a new army.
Tiberium is also a lot more deadly this time around, with mutated plants and vicious bio-engineered lifeforms running amok. The spread of these lifeforms is central to many of Firestorm's 18 new single player missions—nine each in GDI and NOD campaigns—that pick up the story after the GDI victory at the end of Tiberian Sun. The missions, once again a mixture of production and non-production scenarios, are consistent in quality with those of Tiberian Sun. FMV briefing vids spruced in between missions push the story forward as in the original.
Firestorm does a solid job of picking up the Tiberian Sun story, and those who really enjoyed the Tiberian Sun campaigns can probably expect to get quite a few hours of enjoyment from Firestorm.
---
System Requirements: Pentium 166 MHz, 32 MB RAM, Win 95/98/ME/2K
IMPORTANT:
This is a download button.
Please
READ THIS
before downloading!
---
Tags: Free Download Command and Conquer Tiberian Sun Firestorm Full PC Game Review