The Sting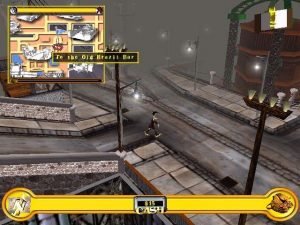 Judging solely by the track record of past titles like Industry Giant and Blaze & Blade, one might suspect that Germany's imports should be restricted to wiener schnitzels and beer. But JoWooD's The Sting may yet open some American minds. Meet novice robber Matt Tucker. He's out for the score of a lifetime. With a little help from friends, fences, and accomplices, this hoodlum might just pull it off. But planning and executing a successful heist isn't as easy as it looks in the movies. Your tactical forethought will make the difference between superstar or cellmate.
Researching potential victims is a fascinating, if sometimes troublesome, procedure. You navigate the 3D cityscape of fictional Fortune Hills, peeking in windows and recruiting accomplices from seedy motels. (There's some unreliable pathfinding to contend with, but it's not a deal-breaker.) Once you've got a target locked, selecting the right men for the job, equipping them with tools, and recording a plan proves downright addictive.
Unfortunately, there's a ton of micromanagement involved. Too many statistics are tacked onto every tool, object, and activity. It's understandable that criminals must avoid guards' lines of sight and keep their footfalls quiet, but do they really need to actively launder every penny earned and make sure their getaway car holds enough goods? Luckily, there's plenty of welcome comic relief. The game features a polished, savvy cartoon style complemented by goofy characters and comic-strip cinematics.
All told, The Sting is greater than the sum of its parts. As a puzzle game, it's pretty sharp for short-term thrill seekers. Anyone sporting a patient temperament and even a passing interest in flirting with felony charges should definitely case this joint.
---
System Requirements: Pentium II 233 MHz, 32 MB RAM, Win98
---
Tags: Free Download The Sting PC Game Review