The House of the Dead 3
Set sixteen years after the events of the previous game, House of the Dead 3 lets you assume the role of Lisa Rogan, daughter of Thomas Rogan, ex-member of the secret government organisation the AMS and star of the previous two titles. After the authorities lose contact with her father whilst investigating the mysterious EFI research facility, Lisa teams up with her father's ex-partner, agent G, to launch a rescue bid. Together, Rogan and G enter the playground of the evil scientist, Dr Curien.
The problem is that the light gun premise of the game has been scrapped in House of the Dead 3. Gone is the trademark interface, otherwise known as the point of playing the game, to be replaced by a mouse-controlled crosshair. This, of course, reduces the difficulty level considerably, with your zombified enemies often occupying over half of the available screen space, as they charge towards you.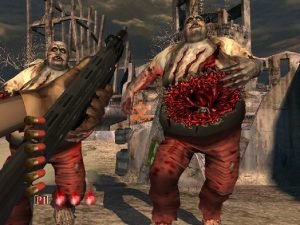 As a result, your first attempt at the game will be an absolute tour de force. Showing off their total mastery of the arcade genre, the developers never allow you a moment to catch your breath between blasting hoards of the undead (quite literally) to pieces. The boss battles are still epic; indeed the skull-club wielding giant who introduces himself partway through level 1 takes the length of a subsequent level to finally see off. All great fun. In addition, the game's tongue-in-cheek humor (probably a nod to retro horror flicks, although it may be unintentional), makes the game funny as hell, rather than scary.
Twenty-five minutes in though, almost to the second, all that fun is over. You'll have played through the game's 6 stages, and discover that there's little point in replaying it. There's a more artificial take on dynamic pathways here, only affecting the order in which some levels are played. They'll have little affect on the story overall. The only other mode worth diving in is time attack, which sees you playing through the same levels against the clock. The addition of House of the Dead 2 might be a tacit admission of the game's lackluster gameplay options, so unless you're after some very quick and dirty zomebie-blasting fun, look elsewhere.
---
System Requirements: Pentium IV 2 GHz, 512 MB RAM, WinXP
---
Tags: The House of the Dead 3 Free Download Full PC Game Review