King's Quest VII: The Princeless Bride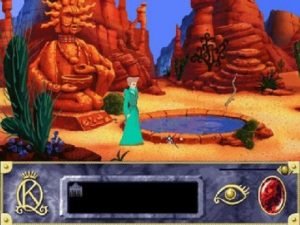 Queen Valanice of Daventry has always thought that getting married would be the best course of action for her daughter Rosella. However, the young princess seems to be more interested in adventure, recklessly following a mysterious magical creature into a whirlpool that eventually transfer herself and her mother to another world. The two end up in different parts of a land known as Eldritch, with Rosella being transformed into a troll. They must find each other and eventually defeat an evil sorceress who plots to ruin the land.
Like its predecessors, King's Quest VII is an adventure game primarily based on solving inventory puzzles. It discards the icon-based interface of the two previous installments, and instead features a simplified "smart cursor" used for general interaction with highlighted objects and characters, as well as significantly fewer text descriptions. The game is divided into chapters, alternating between the queen and the princess as protagonists. As opposed to the realistic drawing style of all the preceding game, it has brightly colored visuals reminiscent of Walt Disney cartoons.
---
System Requirements: 386/33 MHz, 4 MB RAM, DOS
---
Tags: Free Download King's Quest 7 PC Game Review