Jane's Fighters Anthology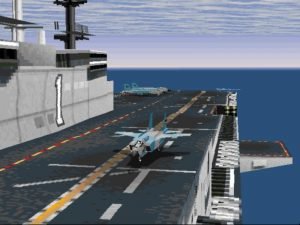 If you can live with some aging and simplistic features (but acceptable graphics), then Fighters Anthology, basically a compilation of all the Jane's USNF series simulations, might be for you. It has 120 flyable aircraft—all modeled with different relative performances. You can fly all the former USNF series campaigns and missions as well as design your own new missions. It also adds some new features such as 20 new flyable aircraft, including the Thunderchief, Skyraider, Foxbat, Kfir, Draken and Fitter. Jane's adds nine new theaters: Cuba, the Falkland Islands, Pakistan, South Korea, Greece, Panama and Taiwan.
Fighters Anthology does, however, have some distracting, simplistic features. The radar and targeting models are definitely simplistic—they are almost one step operations. The airplanes only have heads up displays, with no other instruments. The flight models, although usable, are not cutting-edge; for instance, there's no force model with snap rolls, torque or realistic inertia.
Some features such as weak airspeed bleed and non-stiffening controls for certain aircraft make some critical historical tactics impossible. However, it models most essential basics and is entertaining. The viewing system, however, is way too simplistic with just three interior views plus a weak padlock feature.
---
System Requirements: Pentium 90 MHz, 16 MB RAM, Win 95
---
Tags: Free Download Fighters Anthology PC Game Review