Anachronox
Welcome to Anachronox. Try not to get killed.
Anachronox is a console-style sci-fi role-playing game from the mind of Tom Hall. You walk through this little piece of Hall's brain as leading man Sylvester "Sly" Boots, washed-up private detective and reluctant hero extraordinaire. Just how down-and-out is Boots? During the course of the intro, Boots is thrashed by a thug, tossed through the window of his own office, and mocked by his own secretary.
Broke, bruised, and in need of a stiff drink, Boots sets off under your control to make some dough before any more leg-breakers come back to finish the job. Several hours, numerous beatings, and one blown-up planet later, you'll find yourself in the middle of an adventure that holds the fate of the entire universe in the balance.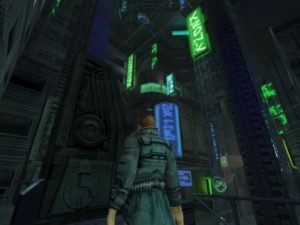 Anachronox's revolving party system—three members picked from a pool at select times—and active-time combat system—featuring battle skills that bear an uncanny similarity to Limit Breaks—borrows heavily from Japanese role-playing games. It's obvious that Hall has used elements from classic role-playing games that were dear to him. The experience provides an entertaining, if somewhat familiar, RPG. The plot is irreverent and fun, if mostly formulaic, while the characters and dialog are a mix of Monty Python inspired humor and Douglas Adams style sensibility.
Alas, for a game that was years in the making, Anachronox falls short of being a treat for the senses. A major legacy from the game's Quake II days are the smallish game areas, and the irritating load times. A linear, quest based structure makes up the majority of the plot, with Fatima (your trash-talking secretary) keeping track of what's required to move forward in the story. Side-quests, mini-games, and weirdly amusing bits of dialog are everywhere, but you're on your own keeping track of them. It's only a shame everything had to me spliced with loading screens.
If you think these quirks won't annoy you, or if you have a general affinity towards Japanese-style role-playing games, then Anachronox will have enough of the good stuff to keep players around. But don't expect anything groundbreaking.
---
System Requirements: Pentium II 266 MHz, 32 RAM, Windows 95
IMPORTANT:
This is a download button.
Please
READ THIS
before downloading!
---
Tags: Full Download Anachronox PC Game Review