9: The Last Resort
9: The Last Resort is a classic case of substance over matter. The game lets you engage in a journey of weirdness through a large, eccentric house that looks yanked out of an Escher painting. Unfortunately, the total amount of time you play around in this house is rather short, and the puzzles aren't extremely original or difficult. The game starts with you, as Thurston Last, inheriting your uncle's artsy madhouse that is meant to inspire creative types. The place has been taken over by misguided muses and the Toxic Twins, and you must save the Resort by solving a cavalcade of puzzles.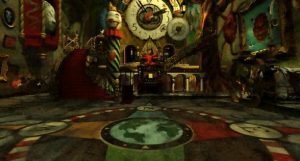 To its credit, 9 has some beautiful artwork. All of it is rendered in lush graphics, and the sound isn't bad either. But the puzzles are anything but original. There are plenty of locked doors left and right, a steam engine that you must start, as well as the mandatory sound rhythm puzzle. There are also a couple of arcade sequences to be found. These do help break the monotony of the journey, although one of them can be frustrating.
The plot itself, drenched in weirdness, is as entertaining as the freaky imagery. The ending is surprisingly well made, and by that time you'll find that playing through the game wasn't all that bad. You've probably solved these puzzles a million times before, but the decor and plot made it all worthwhile.
---
System Requirements: Pentium 90 MHz, 16 MB RAM, Win95
---
Tags: Free 9 The Last Resort Download Full PC Game Review