Warhammer Epic 40.000: Final Liberation
If you're the least bit interested in the world of miniature battle systems you probably already know that Games Workshop's Warhammer universe is one of the most successful around. However, translating these popular systems to the PC has been tricky at best.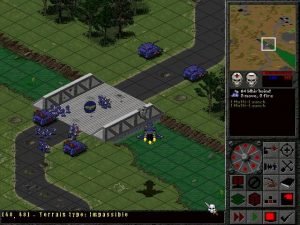 While the regular Warhammer system embraces small unit tactical engagements, Final Liberation involves sweeping battles across large landscapes. A basic Final Liberation starter set comes with armies of miniature soldiers representing two warring sides — The Imperium and The Orks — rules, starting scenarios, and plenty of background information. Individual battles or full campaigns can be created using pre-set specifications and victory requirements, or by creating custom encounters.
Final Liberation brings this mode of play to computer gamers in two ways: custom battles and a full campaign. Custom battles are flexible and enable the creation of a large variety of encounters over a good selection of terrains. Four different types of battle are available — assault, meeting engagement, relief, and flank attack — with each type having different victory and setup parameters. A battleground can be selected from among a couple dozen maps depicting ruined cities, frozen wastes, deserts, and forests in admirable detail.
Point allotments enable you to create up to four regiments composed of four companies, each in turn composed of four units. A wide array of units are available in Final Liberation, with the many different warring "houses" and special leaders represented. The elaborate mythology of the Warhammer universe gives each distinct characteristics, and Warhammer fans will find the familiar Chimera, Predator, Thudd Gun, Bonebreaka, Lungbursta and Spleenrippa units here for deployment.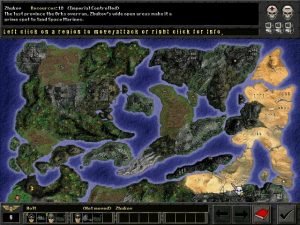 Once units are deployed, combat begins in turns by either army (each side moves all their units in one turn) or alternating turns (one regiment at a time). The combat interface is simple and effective, putting plenty of information at your fingertips as well as a wide array of commands. Facing, entrenchment, movement, and attack are all handled by icons or, in full screen mode, by hot keys. These battles have a great feel to them, with plenty of tactical finesse, almost like a fantasy version of Steel Panthers.
Enemy artificial intelligence is pretty strong, and a definite step up from AI in previous Holistic efforts. Units attack fairly aggressively, and even seem to fight in "doctrine," with heavy Ork charges and subtler Imperium maneuvers. Detailed descriptions and stats for each weapon and unit put vital information on the screen to help set up attacks. Companies can be moved individually or in formation. You can even choose which weapon to fire with.
Final Liberation is a fun, tactically challenging game that faithfully captures the Warhammer system for the first time on PC. It's a smoothly working, quite engaging system for fantasy combat gaming.
---
System Requirements: Pentium 90 MHz, 16 MB RAM, 30 MB HDD, Win95
---
Tags: Free Download Warhammer Epic 40000 Final Liberation Full PC Game Review