Disciples II: Dark Prophecy
Although there was a three year gap between the first Disciples from 1999 and the sequel, Disciples 2: Dark Prophecy was worth the wait. While the new game is less than a revolutionary makeover, it's distinctly more than an add-on. It's stuffed with great dark fantasy atmosphere, from the characters, environment and even the interface. It's also a great game.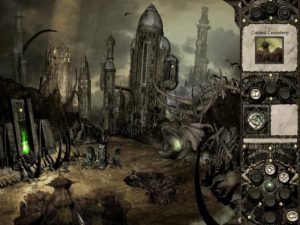 Like the first game, Disciples 2 is a turn-based strategy game. We get 20 standalone scenarios, a four-side campaign, a scenario builder, and hotseat play. The scenarios are one-shots for two to four players. (A new import/export facility lets you save a hero in one scenario and import him into another.) The same sides are available for your selection in the campaign: the Empire (human), the Mountain Clans (dwarves), the Legions of the Damned (demons), and the Undead Hordes (undead). Each side has unique spells, magical artifacts, and unit types.
One of the more interesting aspects of gameplay is that you get to select a Lord as your in-game avatar — someone who affects but never shows up in the game. The troops of a Warrior Lord regenerate lost health on the road, while the forces of Mage Lords can research higher spells, and cast them more often. Guildmaster Lords add extra options to thieving units, like assassination and the ability to bribe enemy towns.
Gameplay is similar to that in Heroes of Might and Magic or Warlords. You hire leaders and troops, send out small squads to gather resources and gold, pick up experience by killing monsters, and ultimately achieve the immediate scenario's goal. Along the way, you decide how to upgrade your main city and also learn spells, while your troops evolve into advanced units. Everything carries across between scenarios.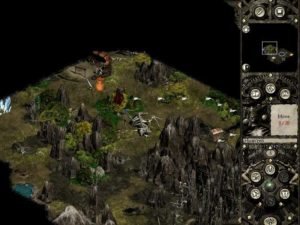 There's a lot of depth to this seemingly simple strategy game, though combat remains Disciples 2's one significant weakness. Troops take positions in front and back ranks, and once in battle, nobody can move. This results in insufficient hands-on control of the battlefield. The AI has also received a significant upgrade from the first Disciples and a great competitor to the Heroes series, employing human-like strategies and building tactics. In all, the game is a keeper for anyone enjoying a well-made, deep strategy game with a dark attitude.
---
System Requirements: Pentium III 500 MHz, 128 MB RAM, 550 MB HDD, Win95
IMPORTANT:
This is a download button.
Please
READ THIS
before downloading!
---
Tags: Disciples 2 Dark Prophecy PC Game Download Review